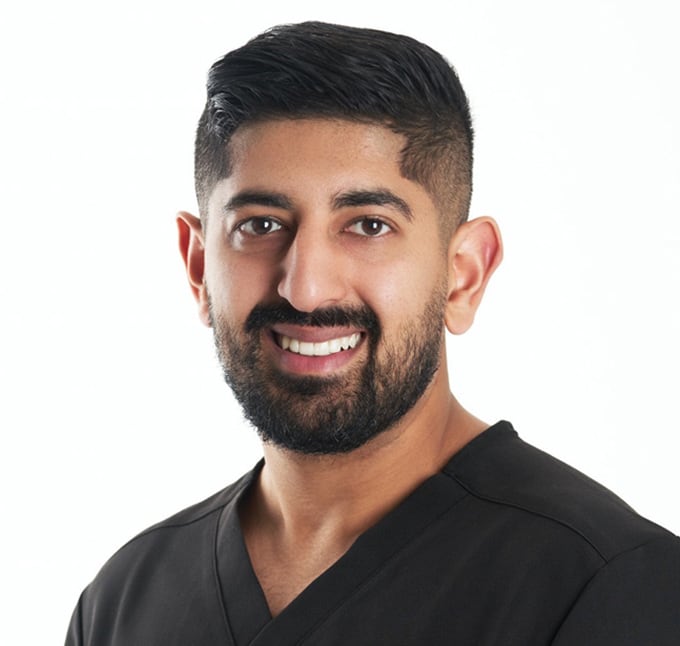 Dr. Ullas Kapoor
General Dentist
DMD, B.Sc, Kois Center
Dr. Ullas Kapoor grew up in Saskatoon, Saskatchewan. He obtained his Doctor of Dental Medicine from the College of Dentistry at the University of Saskatchewan in 2014.
Since his graduation in 2014, Dr. Kapoor has been passionate about helping his patients feel more confident about their smiles and continuing to expand his knowledge. In his pursuits of advancing his skills, he graduated from the prestigious Kois Center in Seattle, Washington in 2016 requiring over 200 hours of continuing education. This program furthered his knowledge and skill in all areas of dentistry including: TMJ problems, crown and bridge, implant restorations, with a focus on prevention. With a commitment to learning, he continues to complete nearly 100 hours of continuing education every year.
Dr. Kapoor is a member of many professional organizations including the Canadian Dental Association, The British Columbia Dentists Association, The College of Dental Surgeons of British Columbia, The College of Dental Surgeons of Saskatchewan, Academy of General Dentistry, American Association of Cosmetic Dentistry, and the American Association of Implant Dentistry. In addition, Dr. Kapoor was a clinical instructor at the College of Dentistry at the University of Saskatchewan.
Dr. Kapoor is a very tech savvy individual. Staying up to date with the latest technology and techniques to provide exceptional care to patients of utmost importance to him. He enjoys all aspects of dentistry with a focus on surgery. His favorite procedures include dental extractions, implant placement and bone grafting. In recent years, he has introduced 3D printing into his practice. This allows him to provide smile mock ups for patients as well as delivery of appliances for patient use.
In his spare time, Dr. Kapoor enjoys golfing, playing basketball, working out, running, travelling, mixing cocktails and trying different restaurants. Dr. Kapoor moved to Kelowna in 2022 and has quickly taken a liking to the local activities such as skiing, hiking, visiting wineries, and spending more time outdoors.
Dr. Kapoor is looking forward to meeting you and your family at Landmark Dental Centre!