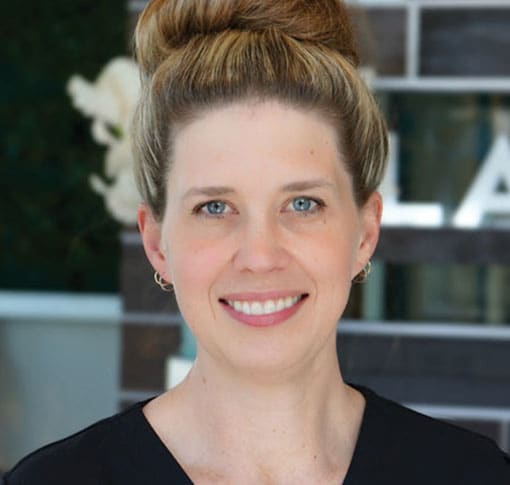 Dr. Angelyn Salaberry
General Dentist
DMD, University of British Columbia
"I want to engage patients to help them to feel empowered regarding their oral health."
Dr. Angelyn Salaberry has been practicing family dentistry since the year 2000. After spending the first four years of her career in Grand Forks and Vernon, she put down roots in Kelowna in 2004 and became a partner in a local practice. In 2015, following over ten years as both a dentist and business owner, she made the decision to join Landmark Dental Centre to focus on the practice of dentistry as well as BC Cancer as a dentist in Oral Oncology.
She is dedicated to all areas of family dentistry and believes in the importance of seeking and maintaining current knowledge and experience. Her primary career goal is to offer comprehensive dental services to her patients. To that end, she has undertaken continuing education in general dentistry, endodontics, prosthodontics, pedodontics, oral surgery and aesthetics. In 2006 and 2007, she took part in two nine-month-long residencies with a focus on comprehensive complex dentistry at the Ickert Teaching Centre (now the Ickert Dental Implant Center). In 2012, she graduated from the Kois Center Post Graduate Program, gaining training in occlusion, grafting, aesthetics, implant and restorative dentistry. As of 2015, she has worked on a part-time basis with BC Cancer at Kelowna General Hospital, both gaining experience in the realm of oral oncology.
Dr. Salaberry's early years were spent exploring pebble beaches, forests and art studios on Vancouver Island. With a family move, she discovered the Okanagan and entered the world of horseback riding, mountain biking and skiing. She evolved into a goal-oriented individual with aspirations in science and moved on to study chemistry and microbiology at Okanagan University College, (as it then was), and the University of British Columbia. Her interest in dentistry was cultivated in part by her family dentist and her orthodontist, both of whom introduced her to the nature of the work. She obtained her Doctor of Medical Dentistry degree from the University of British Columbia in the year 2000.
Dr. Salaberry has a passion for doing a job well and an interest in helping others. Her love of practicing dentistry is due, in large part, to the fact that it allows her to apply these attributes. Her focus is on learning, listening to patients and applying herself to delivering comprehensive dental care to her patients.